Post by S5fan on May 19, 2013 14:54:24 GMT -5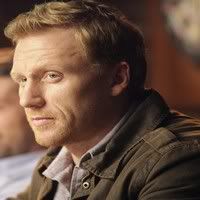 I think that like some of you already wrote here,Cristina through her "altruistic" decision of letting Owen go, is much more all about her once again. She is chickening away and run when things get thought and messed up. Under the cover of a self sacrifice, She is saving herself, she is doing it for herself, not for Owen. Otherwise, she would have stayed and tried to find a way on how to overcome their difference regarding the kid issue, TOGETHER with Owen. it is again, an unilateral decision made from Cristina for both of them. Owen has no say in it. 
How can she ask Owen if he does feel the same rush of joy she can feel while holding a heart when he is with her ? Is he enought for her ? No. 
Up from the beginning of season 6, we knew and we know, Owen is not enought for Cristina, she did  and does put surgery and Merder first before him. Unfortunately he has never been first in her mind. Even during the crappy Pegasus SL, she stuck by Merder. He was and has always been there anyway for her, with her.
Cristina is capable to show a great sense of compassion and empathy towards her patients and compassion and love when it comes to Merder and family, to whom she allows herself to give pieces of herself: she said no first to her dear Meredith about being with her during her childbirth, and gave in easily at the end.
But when it comes to Owen, she just can not compromise herself:  she does not want to give him any piece of herself. 
Cristina's deep nature is selfishness. When something or someone is about to make her compromise her very self, her surgeon self, she robotically blow them away, no matter what no matter who, excepted Meredith of course. She is unwilling to give per her selfishness and she feels threatened by the whole world. What kind of life can someone have being afraid all the time ? None. Because she is unable to TRUST people, so far to trust the man who loves her.
In SP season 7, running away from her marriage and from Owen, she took refuge in Meredith's and told her that 50% of married couple ended in divorce and between her and Meredith, her friend will just be fine with Mcdreamy. From the start she already gave up on her marriage. She condemned it to death even before it really started. How can this marriage could had any chance to succeed if she did not believe in it at first hand ?About her pregnancy, the same pattern. And finally, Owen, she decided to let him go, but at the same time, she took "them" away from him. She "gave" him the possibility to have the child he longs for by his own, but at the same time, she punished him by taking away their future together. It is not an act of generosity, it is an act of fear, Cristina is a COWARD. Oh pure irony, she is a hero in the OR but a coward in life. It is sad. 
That's why she decides to live vicariously through Merder' s happiness...hello aka the 3rd wheel ! Oh , Cristina, it is crappy !   Through Merder's life she can have it all from what she aspires for herself but too coward to try to reach for it. I had so oftenly and openly accused Meredith to project on Cristina her mummy issue, but for the first time, in this scene where Cristina stands outside of her friend's room and observes the Merder happy family, I just felt uneasy with her. She seems to be genuinely happy for them, no doubt. But at the same time, there is this something, in my mind who wants to slap some sense into her blindness and tell her: go, and get your own happiness, do not stand here and live your friend's life ! She is afraid to live, she is afraid to love and to loose. Whereas in the OR, she is in control, her surgical genius allows her to work out from the worst situations. But at the same time, this genius is a bad genius in her life, because it is unuseful  once outside of the OR. Life has its own curse and its own rules and no one can rules it, even a surgical genius.
Cristina during the break up scene told Owen how surgery makes her feel and makes the insane comparison between her feeling for surgey and his love for her, uuuurrrrg... 
In season 6, after the infamous trade between Teddy and Cristina, Owen told Cristina that she thinks she knows it all, that she thinks that surgery is going to make her feel, and people do not matter but he matters and they matter. 
Now, you are all going to hate me. what did Teddy tell Owen in season 7 about Cristina ? You don't tell Cristina Yang what to do, she has to learn by herself. I think that Owen has to learn to let Cristina makes and to live her own mistakes because mistakes are how you learn. By trying to protect her, he just makes things worse and by the end of the day, she blames him for it.
Dear Owen, be just a little more selfish and stop being such a kind and generous guy ! Speak out your feelings and go for what you want ! Do not dismiss your feelings and needs for anything or anyone.  Do not trust so blindly people because not everyone is like you. See, the former Board, what did they do to you ? They tried to put the plane crash all on you. And the Pegasus desaster ? And all those people whom you thought you had on your corner ? And your own ex wife, ex wife ex idonotwhatshewaswhatsheisnowtoyou ? Just try to protect yourself a bit more and not so being confident on the good nature of people because no everyone has good intention as you do, see your buddy Teddy who while trying to gain your "affection" almost blew away your relationship with your then girlfriend Cristina and later wished you were dead because you did not tell her while she operated on a critical patient that her husband was dead.
Ok ! What the hell ? Who I am kidding here ?! We ŀove both CO because of all their flaws because they make CO likeable but the writers mess it big this time. Both characters are totally compromised by writers silliness and political agenda stands that have nothing to do with well written stories or entertainment.
And regarding the kid issue, ITA with Trinity who wrote several times ago that Owen does not want any kid, he wants a child with Cristina, a child that both of them are willing to raise together. The silly writting is all over the place about this issue: if Owen has a child by adoption or through another process without Cristina being involved as a mother somehow to the child, there is no future for CO. The 2 things are strongly tied. 
Again, kid or no kid ? Again the decision has to be made together, not unilateraly. Cristina and Owen have to make the decision together. 
Or as someone wrote in a very fun way, in the speculation thread, they should go separated ways and get back together when they will be 60 or even older ! I say amen to that ! But hey let's not give Shonda ideas because I remember now while writing those lines that in the end of season 6 there were this old lady who found back her former ŀover at the hospital and they got married, right ? In which episode is that ? This could be another option for CO to be back together...Shonda may sells it like "regardless of the passage of the time, True Love never goes away" ! ! ! And here we are, doomed again, dear CO shippers !  
You made an effort to write so many excellent truthful thoughts, Justine. A lot to ponder about

I felt so uneasy with the last scene where she looks at the happy Mer/Der family
What emotion was it on Cristina´s face?What was going on in her mind, happiness for her person, relief, she doesn´t want this kind of happiness, pure joy she can go back to the OR...